Topic: Awesome Mix (Vol.2) "BreakTape4MyBBoyIsaac"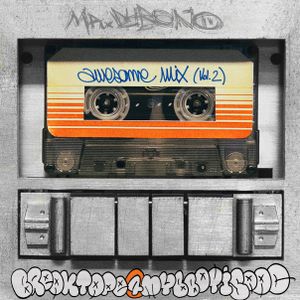 Petit exercice de style en mode "Break" en dédicace à mon fiston A.K.A. "The Supa Dope" B-Boy ISAAC !!!
Sélection quasi purement instrumentale et assez éclectique avec de l'underground +/- du gouffre, des faces B, de l'abstract, du break pur et dur, de l'improbable... beaucoup de scratchs et mêmes quelques créations / "Remix" by myself.
Bref, 41 min de bon son up-tempo bien mixé pour breaker, danser, bouger ou juste kiffer !
Mixcloud : https://www.mixcloud.com/DYBONO/awesome … bboyisaac/
YouTube : https://www.youtube.com/watch?v=-ZQ4TPjLgUI
Tracklisting :
01. Mr. DYBONO "Introduction"
02. The Roots "Thought @ Work"
03. 2For5 "Twelve Hundred Ways"
04. Blockhead "The Art Of Walking"
05. Femi Kuti "Day By Day (Chinese Man Remix)"
06. Maker "Ten"
07. Mumbles "The Energy (Remix)"
08. Steinski "Vox Apostolica"
09. Mr. DYBONO "I'm Your Best Friend ! (Sound Of The Genius)"
10. Jurassic 5 "Swing Set"
11. T-Love "I Be Flexin'"
12. Bored Stiff "Survivin'"
13. Metal Finger "Cedar"
14. DJ Revolution "Untitled Break (The ABC's Oh High Fidelity - Track 47)"
15. Paul Nice "Holy Ghost"
16. Live Human "Lagoona's Bliss"
17. Beastie Boys "Stand Together"
18. Beastie Boys "Body Movin (Fatboy Slim Remix)"
19. Sol.Illaquists Of Sound "Gotham City Chase Scene (Instrumental)"
20. DJ Zeph & Azeem "Make Your Brain Swing"
21. SunGodSuns (2Mex) "Minor Into Fire"
22. Mr. DYBONO "Imperfect Late Presentation (Interlude)"
23. Red ANts "Future Imperfect"
24. DJ Tommee & JL "Tommee Vs. JL"
25. Showbiz & A.G "Party Groove (Instrumental) (Wicked Dyb's Version)"
26. Mr. DYBONO "... Show U Watcha Got (Interlude)"
27. Jel "Time Signature"
28. The Last Emperor "Rap Tyranny (Instrumental)"
29. Diversion Tactics "NS (Dyb's Breaked Version)"
30. Jizzm High Definition "Message To Hip Hop (feat. Phoenix Orion)"
31. L'Orange & Jeremiah Jae "Part Two : God Complex (Dyb's Rework version)"
32. Grand Master Roc Raida "Funky Music Is The Thing"
33. Z-Trip "Untitled (B-Boy Break 3 - Track 1)"
34. DJ Format "Last Bongo In Brighton (Remix)"
35. DJ Format "English Lesson (Remix)"
36. DJ Pone & DJ Damage "Frogz Into The Bayou Break (Swamp Classic Noise 3)"
37. DJ Spinna "Rock"
38. DJ Revolution "Untitled Break (The ABC's Oh High Fidelity - Track 54)"
39. Malo "Just Say Goobye (Dyb's Breaked Version)"
40. Sept & Lartizan "Karaoké Pirate (Instrumental)"
41. Jem "They"
42. Mr. DYBONO "Us (They Remix)"
43. Mr. DYBONO "...Feel Good (Interlude)"
44. Fiona Apple "Fast As You Can"
45. Moves "Roanin'"
46. Raw Produce "This Is The End (Outro)"